Our chef
Axel Janssens, our chef, studied at one of the most prestigious schools in Europe and perfected his culinary art in several  Michelin star restaurants. By absorbing local influences he has created his own highly appreciated cuisine: a fusion of exquisite European and African delights based on seasonal specialties. Mixing the best of both worlds, the traditional French cuisine and the wonderful creativity and inspiration of this continent. The pure taste and flavors of the freshest ingredients are dressed and presented in the best way: elegant and contemporary. And of course everything is home made, yes, even the bread and the ice-cream,…
Our cuisine
From breakfast with warm, oven crisp breads and freshly squeezed juices, to lunch with carefully selected brasserie dishes to the culinary feast for your taste buds at dinner: a five course gourmet experience accompanied by the finest wines from our climate-controlled cellars, all of which you can enjoy on the magnificent, spacious patio restaurant or in our intimate inside dining areas. Only working with the best products, the freshest ingredients and with tons of inspiration and creativity, we will make every bite and every sip an unforgettable experience for your senses. For every dish on the menu we recommend a complementing wine. Alternatively, you can make your own choice out of an amazing selection of wines that you can find on our wine list.
Our vision
Our chef Axel is not only a very experienced and creative chef, he is also a great teacher. Throughout the year we have vulnerable youth who take on the challenge of the kitchen and we see them develop and grow under Axel's wings. We now have, in addition to Axel, a few very talented young people who can provide peer-training of (future) chefs. What they can offer you and/or your staff is on-site, needs-based training. For a few hours, a few days, a few sessions… we are flexible. Our team is specialized in food presentation, cooking with quality products, dietary-request-cooking and wine stewarding.
THE MENU
Breakfast
The breakfast is a mix of buffet style continental with à la carte eggs and extras served the way you like.
From the buffet:
Selection of teas
Selection of cereals and muesli
Selection of fruit yoghurts
Selection of charcuterie & cheese
Local produced jams & honey
Homemade bread, buns & pastries
Fresh fruit salad
Fresh fruit juice
Eggs served the way you like
light / medium / hard Boiled
Fried, Poached or Scrambled
Scrambled truffle and mushroom
Plain omelette
Omelette with Parmesan cheese
Spanish omelette
French toast
Extra's
Bacon
Pork sausages
Tomatoes
Baked beans in tomato sauce
Lunch
There is a daily changing lunch served with a either a starter, main course and coffee or main course, dessert and coffee.
Lunch is served as of 12.30 until 14.30. 
Example of daily changing lunch – Choice of 2 main dishes
Refreshing cucumber and tomato gazpacho with fresh chili
Lamb curry with cardamom rice
Coffee or tea with cake and Belgian chocolates
or
Grilled tiger prawns salad served with garlic butter
Tropical tiramisu
Coffee or tea with cake and Belgian chocolates
Bistro Menu
For our guests who would like to have a snack between 11AM and 11PM, we also offer a limited menu with fresh specialties.

Our bistro menu currently offers:
Breads
Club Sandwich Ham/Cheese – US$ 10
Focaccia with Smoked Salmon & Apple/Cabbage Slaw – US$ 15
Meat Loaf on Bread with BBQ-sauce or Mustard/Pickle – US$ 10
Classics
Home-made Beef Burger with French Fries & Mixed Salad – US$ 15
Spaghetti Bolognaise – US$ 10
Hot Plates
Belgian Beef Stew with French Fries – US$ 15
Linguini Marseillaise (prawns, saffron, Ricard, cream) – US$ 15
Vol au Vent (chicken, mushroom, cream, herbs) in a Basket – US$ 15
Salads
Roast Carrot & Avocado Salad – US$ 10
Salade Liégoise (green beans, bacon, poached egg, croutons) – US$ 10
Tomato & Prawn Salad – US$ 15
Veggies
Raw-food Lasagna (zucchini, cashew, sundried tomatoes, black olives, fresh herbs) – US$ 15
Veggie Burger with French Fries & Mixed Salad – US$ 10
Dessert
Banana Split with Hot Chocolate Sauce and Salted Caramel – US$ 5
Heavenly Rice (Rice Pudding with Brown Sugar)– US$ 5
Belgian Chocolate Mousse – US$ 5
Dinner
Every day, our chef Axel develops a new menu inspired by the day fresh produce and in harmony with the seasons. Every evening you can expect different appetizers and a small soup, followed by a choice of two starters, a selection of two main dishes, dessert and coffee or tea accompanied by homemade biscuits.
EXAMPLE of daily changing dinner menu:
– 3 amuses-bouche –
Sweet melon with Parma ham and mint
Avocado and fresh crab with cocktail sauce
Beef samosa with chilli sauce
***
– Soup –
Cappuccino of pumpkin topped with sunflower seeds
***
– Starter –
Grilled calamari Swahili Style (peanuts, coriander, mint, parsley, chili)
or
Wild mushroom risotto with parmesan cheese and black truffle vinaigrette
***
– Main dish –
Filet of Grouper with chutney from butternut and chickpeas, fried slices of carrots and curry
or
Duck fillet with croquettes from sweet potato and oregano, sugar snaps and a ginger mango sauce
***
– Dessert –
Belgian chocolate Soufflé with Tonka bean Ice-cream and orange flower sauce
***
Coffee or tea with biscuits and cake
CULINARY EVENTS
The Onsea House and Machweo facilities welcome all types of culinary events.  We have been catering wedding parties including traditional wedding ceremonies, staff parties, business lunches, conference dinners, African BBQ parties, product launches, incentive trips, wine tastings, etc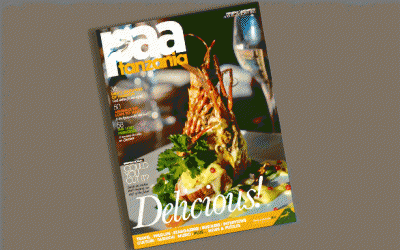 The popular inflight magazine from Precison Air published in 2013 the iconic 8 page cover story "Delicious" about the chef training at Machweo which has lead to the launch of the Axel Janssens signature catering division. After 4 years, PAA...
read more